There's no better time to start planning your upcoming Park City Vacation. We're here to help, and as the publisher of visitor guides for Utah, we can arrange to have free Park City housing information sent to you at no charge! Whether you are coming here to go skiing or for any other purpose, you can request to have free Park City vacation rental info sent to you. For faster and more detailed information, you can view lodging options by visiting the websites within these pages.

Welcome to our Park City Travel Guide & 2022 Vacation Planner. Park City hosted the world during the 2002 Winter Games, now we're ready for you! We would be happy to help you have the best Park City vacation that you ever experienced. Our visiting Park City Guide has all the hotel, resort, and vacation info you'll need. From Park City local recommendations on lodging to restaurants and malls in the area, including Deer Valley resort, to everything you could possibly need to enjoy your Park City vacation all at no charge to you.


If you want to escape to the beautiful mountains of Park City and Deer Valley, The Park City at a Glance Visitor Guide and 2022 Ski Planner offers suggestions on world-class lodging to hidden secrets that pop up all the time and can make your stay even more enjoyable. Picture this, you come home from an adventure filled day on the slopes to your private outdoor hot tub overlooking Park City's snow-covered mountains while sipping wine. It's all there for the offering... Park City lodging

Whether you're interested in a romantic getaway at one of our fabulous ski resorts or a fun-filled family vacation, Park City offers beautiful condos and homes for rent and are located throughout Park City, Deer Valley and the Canyons ski resort areas.

A few years back Park City Mountain Resort merged with the Canyons Ski Resort and created America's Largest Single Ski And Snowboard Resort. Only a 35 minute drive from Salt Lake City International Airport, Park City is home to over 7,300 skiable acres with a good mix of beginner, intermediate and advanced terrain. Park City bustles with activities year round with two distinct base areas, nine hotels, thrilling family adventures, and more than two dozen restaurants.





Park City's Main Street - Shopping, Dining, See You There...




Ski Park City Utah..... Park City is a self contained resort town and with all of the fun you will have, it is just the "tip of the iceberg" as far as activities are concerned. Park City is only 35 minutes from the Salt Lake International Airport! No other major ski area in the world can make this claim. In fact, the entrance to Parley's Canyon is only 9 miles from downtown Salt Lake and once at the mouth of the canyon, you are less than 18 miles to Park City!



The town of Park City is a true four season resort town. In the winter, you'll find world class skiing and snowboarding along with charming
lodging
options. Other activities include nordic skiing on groomed trails, guided snowshoe tours, snowmobile tours and hot-air balloon rides. Visitors to Park City can experience sleigh rides, guided snowmobile tours, snowboarding, tubing, four star restaurants, and so much more all designed to give you the greatest fun vacation ever! So much to do in Park City!
Main Street...
In addition to resort activities, stroll up and down historic Main Street perusing the galleries, shops and restaurants and be sure and take home a piece of Park City.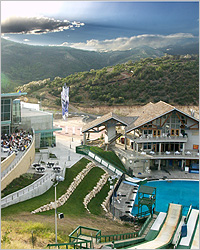 Year round vacations in Park City Utah
, once the snow melts, you can enjoy rock climbing, hiking, mountain biking,
horseback riding,
mountain golf courses, shopping and many more fun
summer activities.
Despite what you may have heard, Park City is not "dry". With a year round population of less than 10,000 people, Park City Utah has over 100 restaurants and more
bars
per capita than any other town in the state of Utah.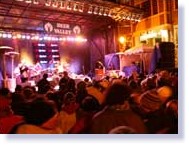 Nowadays, Park City is home to a bustling night life, gourmet dining, and luxury hotels. Park City's Main Street is host to numerous night clubs and bars, including the upscale bar "The Black Pearl", and Cisero's, the hip and trendy nightclub. If you are looking for apres-ski, live music or a quiet table at a wine bar, the town of Park City is the place. So with this website, our visitor guides and travel planners, you can wet your whistle in Park City Utah.
Dining...
Home to everything from casual family-style eateries to award-winning fine dining establishments, the town of Park City is a gourmet mecca. Visit our
Park City Restaurant page
for more information on what the area has to offer.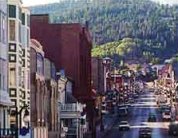 History & Culture
Park City was 'discovered' by prospecting U.S. Army soldiers in the late 1800's and was a bustling mining town for many years. In the 1920's, skiing became popular and Park City was a prime destination. Park City Utah is steeped in turn of the century silver mining history. A walk through "old town" reveals renovated miner's shacks turned into ski town homes.
The town of Park City is the annual headquarters for the
Sundance Film Festival
every January. After skiing and snowboarding all day, you can see screenings of films by yet to be discovered filmmakers and rub shoulders with celebrities on historic Main Street.
Park City Ski Information
reports on the fun, family side of Skiing Utah. It feels as though the town of Park City never sleeps.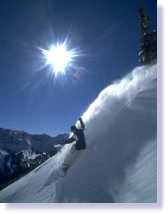 Park City is one of the most exclusive
ski vacation
destinations in the United States. Its luxury accomodations and beautiful scenery draws celebrities year round. Park City Utah is without a doubt, a vacation paradise in both winter and summer and we are here to help you plan your visit and find the accommodations that fit your individual needs. With vacation homes and condominiums, and numerous four-star Park City Hotels and lodges, your
perfect utah vacation
with discounts is just a click away.
Here is the complete list of every hotel in Park City Utah.
Park City Hotels
Park City vacationers are experiencing the fact that to get the best hotel rates and vacation package deals, you reserve with the hotel directly. You don't have to go to those advertised 3rd party sites any longer. Think about it, someone has to pay for all of their world-wide advertising.
For your upcoming Park City vacation, if you need a Car, SUV or a Van for Diabled Passengers, click here
Park City Vehicle Rentals
We Have A Free Transit System, Free Buses, Free Main Street Trolley. Yes, They're All Free!

Park City's Free Main Street Shuttle/Trolley

Park City's Free In Town Transit System

If you are planning a meeting or a convention in Park City, feel free to contact us with any questions you may have. No obligation of course!

Want a Free Visitor Guide for Park City? As the publisher of the Park City at a Glance Visitor Guide, pick one up on Main Street when you arrive. Get Park City Free Discounts & Coupons Now - Before you get here. Discount Offers & Coupons - Free






Our Visit Park City Menu




___ Taxis, Car Rentals, Shuttles, Uber ___



Park City Car Rentals

Park City Shuttles

Airport Taxis To Park City

Driving Instructions from the Airport to Park City




___ Park City's Resorts ___



Deer Valley Ski Resort

Park City Ski Resort




___ Park City Lodging Options ___



Deer Valley Ski Resort Lodging

Park City Hotels

Luxury Hotels Park City Utah

Lodging, Condos, & Home Rentals

Park City Utah Vacation Rentals

Park City Owner Rentals




___ Winter - To See & Do ___



Discount Offers & Coupons - Free

Discount Ski Lift Tickets

Kids Ski at a Discount at Utah's Ski Resorts

Skis, Snowboards, Gear

Snowboarding, Super Pipes, All-Terrain Parks

Cross Country Skiing Areas

Sundance Film Festival

Park City Snowmobile Tours

Rent Snowmobiles

Sleigh Rides

Zip Lines

Park City Map

Park City Nightlife

Park City Restaurants




___ All Year Long ___



Utah Olympic Park

Historic Main Street in Park City

History of Park City

Park City Nightlife

Utah Liquor Laws

Park City Restaurants

Free Lodging Brochures

Park City Kids Ski Discounts

Get Acquainted Video Tours




___ Summertime in Park City ___



Summer Activities

Park City Horseback Rides

Park City Golf Courses

Utah Olympic Park

Park City Nightlife

Park City Restaurants




___ Buying Real Estate in Park City ___



Park City Real Estate Options

Park City Homes For Sale

Park City Condos For Sale




___ Salt Lake's Ski Resorts ___



Alta / Snowbird Resort Lodging

Brighton / Solitude Resort Lodging

Ski Salt Lake Vacation Planner

Salt Lake City Online

Meeting and Convention Planners, Email us









Welcome to our Park City at a Glance Visitor Guide & 2022 Ski Planner

Here's where you can find all of the needed information to start planning your upcoming Park City Winter Vacation. These categories and services will point you in the right direction from our trusted members and we believe you'll enjoy Park City and come back often.


When you do visit Utah, bring us along on your mobile device as we update our pages daily. Our goal is to make your visit more enjoyable by providing updated information.



Contact Us By Email



Views





Park City at a Glance TM | Park City Information.org
Park City Utah 84060
© Copyright 1998 - 2022. All Rights Reserved